Our organisation
We build long-term relationships
based on excellence, passion,
integrity and safety
Ultratank is a leading chemical bulk operator in the Americas, servicing its customers in their maritime transportation needs through its modern stainless steel chemical tankers within the 19-22,000 deadweight range. 
Partnerships with close customers are the core of our business, we go above and beyond to deliver value that exceeds expectations. We provide the flexibility and reliability our customers need, building long term relationships and focusing on doing business with ease.  
With an asset light business model, a strong coverage of The Americas and a homogenous stainless steel fleet, we are a safe and reliable partner choice for your maritime transportation needs. 
Ultratank is a subsidiary of Ultranav, a privately owned shipping company for over six decades, headquartered in Chile and operating globally with offices in 17 countries. 
Thinking globally, acting locally
Ultratank is headquartered in Santiago, Chile. Via the Ultranav Group, we have deep roots in all of Latin America and a broad network of companies in several segments of the shipping industry such as chemical tankers, refined products, crude oil, LPG gas, dry bulk, towage and offshore. Such strong network give us an advantageous position that allows offering our customers a wide range of services, more competitively.  
Our office in Chile provides a strategic location for our Chartering and Operations team to best serve our customers in all the Americas, with an unparalleled knowledge of the local market and conditions. Our staff is highly technical and empowered to make decisions, ensuring high quality, safety, responsiveness and ease of doing business.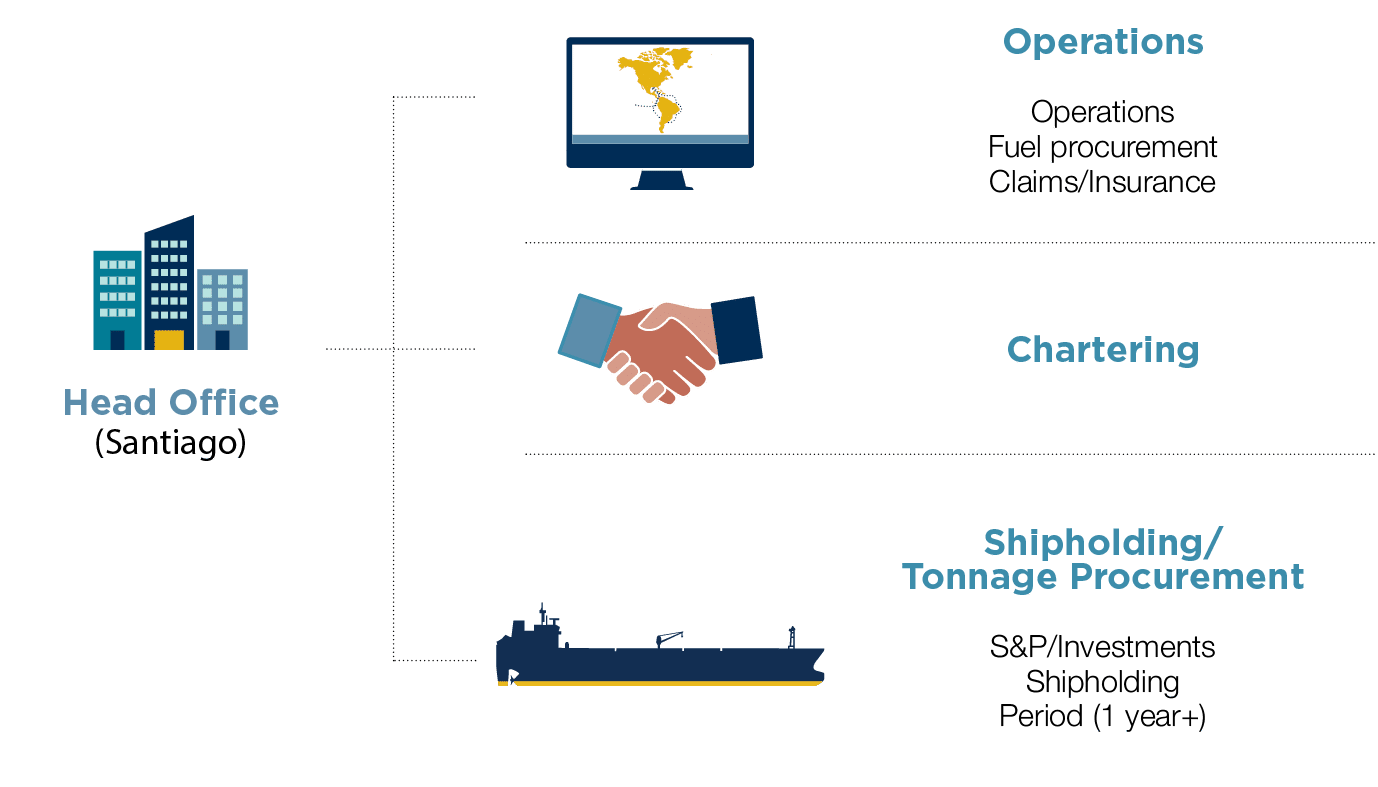 Our business philosophy is based on long-term partnerships consistent with a deep respect for customers' needs and innovative solutions. Our combination of Contracts of Affreightment and repeated spot voyages keeps our freight always competitive. Tonnage procurement is an essential part of Ultratank business model where long-term and short-charters conforms the foundations of stability and sustainable future growth. 
Regional trade deep knowledge is essential to tailor customer requirements through traders' focus on our main loading areas: USG, ECSA and WCSA. This approach enables to cultivate productive and fruitful partnerships for many years.  
Ultratank is committed to continue reducing emissions and minimising our environmental footprint. One of the biggest climate challenges for the global shipping industry is the IMO target to reduce the overall greenhouse gas emissions (GHG) by at least 50% by 2050. 
Ultratank lives by a set of corporate values, guiding us in our way of doing business.
We always strive to be a partner you can trust. If you want to know more about the guidelines we live by, please see our General business principles.
Excellence
We seek to contribute to our customers' competitiveness by anticipating and meeting their needs.
We encourage creativity and innovation, introducing solutions that are beyond the ordinary.
We strive to continuously improve the quality and effectiveness of our services.
Passion
We are passionate about our work and our company.
We believe that personal commitment and work well done make a difference.
We challenge ourselves to create value and exceed our customers' expectations.
Integrity
We act in an ethical manner, focusing on sustainability and safeguarding our reputation.
We encourage personal and professional development and a fair balance between work and private life.
We promote team spirit in a multicultural environment, without discrimination of any kind.
Safety
We believe that safety is an integral part of our mindset and key to our business success.
We place safety first, keeping health, life, environment, cargoes and assets free of risks.
We are committed to developing and stimulating a safe working culture onboard ships and ashore.
Ultratank historical highlights
The progressive development of the chemical tankers operation can be traced to the early 1990s when an oil refined clean products operation in the Chilean domestic trade added on methanol and then sulphuric acid. The trade expanded into methanol between Chile and Brazil in the early 2000s through a COA with Methanex and the company acquired the first stainless steel tanker in 2000 (M/T Vicuña, built 1983). The methanol voyages gave rise to a backhaul trade of chemical parcels, vegetable oils and gasoline from the Atlantic into the Pacific Ocean through the Magellan Strait under a regular pattern. Since then, the trade-lanes coverage has broadened into intra-America routes offering regular sailings and spot positions. 

1960 Started shipowning activities.
1966 Transport of CPP coastal trade in South America.
1969 Liner service between Chile and Brazil.
1981 Introduction to international gas trading.
1982 South American dry bulk activities in coastal trades.
1990 First methanol shipment ex Cabo Negro.
1993 International diversification J/V in Perú.
1997 Acquisition of tanker company in Argentina.
2000 First stainless steel chemicals tanker M/T Vicuña.
2004 Regional Panamax tankers operation started.
2006 Product tankers started operating internationally.
2010 Went global in the dry bulk segment.
2011 Chemical tankers started regional expansion.
2012 Ultragas and its divisions become Ultranav.
2012 Started Aframax tanker operations.
2020 Ultratank Shipping S.A. was established.


Maritime Anti-Corruption Network
The Maritime Anti-Corruption Network (MACN) is a global business network working towards the vision of a maritime industry free of corruption that enables fair trade to the benefit of all.

Trace
TRACE is a non-profit business association providing anti-bribery compliance support and shared-cost third party risk management solution.

Getting to Zero Coalition
The Getting to Zero Coalition is committed to supporting the development of Zero Emission Vessels by 2030, whilst also pursuing a full decarbonisation of the industry by 2050.

BIMCO
BIMCO's goal is to secure a level playing field for the global shipping industry. BIMCO therefore works to promote and secure global standards and regulations for the maritime sector.

Apla
The Latin American Petrochemical and Chemical Association is a non-profit entity founded in 1980 with the purpose of representing the Petrochemical and Chemical Industry in Latin America.